Biography
Unions: ACTRA, SAG Eligible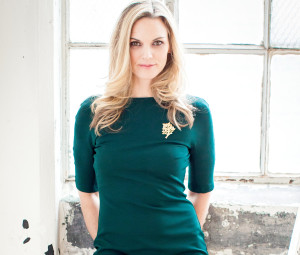 Kate is a Canadian actor working in film, television, voice-over, stage and video games.  She is also a frequent guest host on Sirius XM's Ward & Al Talk Show and has braved the stage with her stand-up comedy routine, in NYC's oldest comedy club, The Comic Strip Live.
A former elementary school teacher, Kate's transition into the arts was fast and furious, with her work and training taking her across North America.  Her passion for storytelling takes her both in front of, and behind the camera and she recently made her writing and directorial debut with a feature film called, Go Fish, which had its first theatrical release in September 2016, and recently won "Best Feature" in the Muskoka Film Festival (2017) and Forest City Film Festival (2017).
Kate can currently be seen in Hallmark's new Flower Shop Mystery Series, starring alongside Brooke Shields, Beau Bridges and Brennan Elliot, directed by Bradley Walsh (Gangland Undercover, Bitten). The first movie of the series, Mum's the Word, made network history with its January premiere.  The Flower Shop Mystery movies are airing on Hallmark Movies & Mysteries, Global TV, W Network and Lifetime.  Kate also plays the character the fans love to hate, Agent Lucado, in the first 2 seasons of the hit series, Wynonna Earp, a high-paced one-hour drama by the creators of Lost Girl, currently airing internationally and on Netflix worldwide.  2017 also finds Kate in guest star roles in Dark Matter, Saving Hope, and she is currently filming a recurring guest star role on Canadian favorite, Heartland which airs on CBC.
No stranger to the Hallmark family, Kate also stars in Lead With Your Heart, alongside Billy Baldwin and Kari Matchett and guest stars in Season 1 of Good Witch, airing also on the CW Network. Kate can also be seen in shows such as Damien, Degrassi: Next Class, Beauty & The Beast, Covert Affairs, Being Human and Lifetime's Clara's Deadly Secret.   She joined the cast of the multi-award winning movie, Room,  starring Brie Larson and Jacob Tremblay, and European feature film, The Informant.
Kate is thrilled to be part of the all-star cast of 5 Films About Technology, a satirical short film about the "dumber side of technology", which was recently accepted into the prestigious Sundance Film Festival. Written and directed by Peter Huang and produced by Evan Landry and Jonathan Keltz, this short film created a great buzz during TIFF 2016 when it was named as one of the top short films of the festival. 5 Films also was nominated at Sundance (2017) and has won several other awards in the film circuit.
A heavy hitter in the video game world, Kate can most recently be seen in the roles of Dr. Kandel in Ubisoft's The Division and lead female, Anna Grimsdottir (Grim) in Splinter Cell Blacklist, Ubisoft's installment of its internationally acclaimed series. She is also attached to 2 other games soon to be coming out of Ubisoft, however, details have not been released.
Kate has appeared in numerous US and Canadian National commercial campaigns such as Cheerios, Nissan, Bengay, Bell Fibe TV,  Halls Vitamin Drops, McCain's Redskins, Revera and Catelli Smart Pasta. She also lends her voice to the Canadian Blood Services National PSAs, Honda, HomeSense, Sleep Country, RBC, Johnson & Johnson, Canadian Blood Services, Zoocasa and many more.  She is the face of the Manulife "The Talk" Campaign which is attracting nationwide attention for its unique approach to advertising.
Kate is happiest when she is finding new ways to master her craft. Even with Bachelor degrees in Kinesiology and Education under her belt, she remains a dedicated, lifelong student constantly seeking opportunities to learn new skills and collaborate with other artists.  She is grateful for her many mentors and thrives on being a part of a strong, cooperative and forward thinking artistic community.
She is an active volunteer and speaker in her community and abroad.  An advocate for following dreams, she recently did her first TED Talk, called "Chasing Dreams and Beginning Again" which has connected her with many incredible people internationally who are doing the same.  She was partnered with Gamers for Sandy Hook, a charity that raised money for the PTA of Sandy Hook Elementary School and she has teamed up with the OSPCA for their National Cupcake Day fundraiser which raised money for SPCA's and Humane Societies across Canada.  Other charities she supports are the Breast Cancer Foundation, Habitat for Humanity and the Bytown Association for Rescued Kanines.  She is also the creator and host of a non-profit, charity cooking series, A Jock's Guide, which donates 100% of proceeds going towards her charity of choice, KidSport Ontario. A Jock's Guide has recently featured on Daytime Ottawa and Daytime Toronto.
Please click here for more information about these causes.