FAN EXPO Toronto Welcomes the Cast of Splinter Cell Blacklist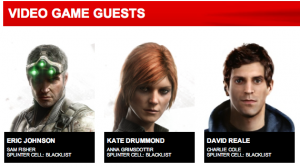 Some of the members of 4th Echelon will be heading to Fan Expo this year, in Toronto. Fan Expo runs from August 22nd – August 25th.  Meet  the man behind Sam Fisher,  Eric Johnson along with Kate Drummond (Anna Grimsdottir) and David Reale (Charlie Cole).
See you there on Saturday at 4pm for a talk back session about  the game, the process and the characters.