Drummond's First Film Wins 'Best Feature'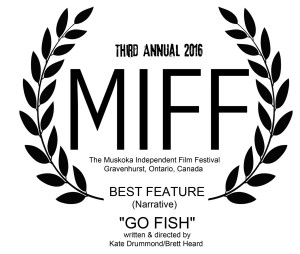 Go Fish was recently awarded "Best Narrative Feature" at the Muskoka Independent Film Festival. This is a huge honor for Kate Drummond and her creative partner, Brett Heard, along with the entire cast and crew of this film.  Co-written and co-directed by Drummond and Heard, Go Fish tells the beautiful story of a young woman's fall from grace after the untimely death of her mother.  Currently, Go Fish, is awaiting a distribution deal.
Starring: Gillian Wetherald, Shaina Silver-Baird, Rocky Keller and Mark Ettlinger.
Visit IMDB for full cast and crew credits.
To view the trailer, click here.