Drummond premiers first film in Toronto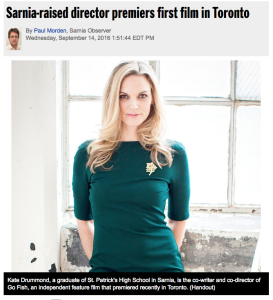 Go Fish marks the feature film writing and directing debut for former Ottawa resident and elementary school teacher, Kate Drummond. After over a decade of teaching with the Ottawa Catholic School Board, Kate left the classroom to pursue her passion for the arts. With a successful career in front of the camera, Kate is currently co-starring alongside Brooke Shields, Beau Bridges and Brennan Elliott in Hallmark Movies & Mysteries' new detective series Flower Shop Mystery. The first movie in the series, Mum's the Word premiered in early 2016 and made network history by becoming the most watched January original premiere in Hallmark history. The second and third instalments of the series, Snipped in the Bud and Dearly Depotted, have already aired in the US and have just begun their Canadian screenings on W Network. Kate is also a recurring character in the new series, Wynonna Earp, which recently celebrated a 2nd season renewal on CHCH and SYFY. Kate can also be seen again at TIFF this year as part of the all-star ensemble in 5 Films About Technology, which follows her last year's appearance in ROOM.
Go Fish co-writer/director Brett Heard, is a multi-award winning writer, director and producer with over 25 years in the industry, both in front of and behind the camera. Heard's experience as an established stand-up and sketch comedy performer across Canada and the United States, and countless acting roles in television series, TV movies and Hollywood features, evolved into a successful career as a storyteller.  Go Fish marks his second feature film, with his first, STAG, picking up nine nominations and two awards including the Award Of Excellence at the LA Comedy Film Fest.  Heard also established himself as a pioneer in the digital entertainment world when, in 2008, he launched the country's first online brand-sponsored production company, Fresh Baked Entertainment, followed in 2012 by the creation of The Incubator Studio.
It is through the unique model of The Incubator Studio that Go Fish was created. This cutting edge development company has actors, writers and directors come together from the conception of an idea, and creates a short, pilot or feature film from the ground up. The process is driven by the writer and director, but includes a unique collaboration that listens to all voices and allows actors a deeper involvement in the storytelling, which translates to more authentic and grounded performances. Go Fish was in the "incubation process" for several months prior to shooting.
"It is unusual to find a film that does such a good job of authentically addressing the issue of loss while using appropriate humour to bring levity, so those dealing with grief feel safe at the same time. Go Fish is the best film on loss to come out in years," Says Roslyn Crichton, Co-Founder of The Coping Centre.
The Coping Centre based in Cambridge, Ontario, was founded in 1990 by Glenn and Roslyn Crichton, seven years after the loss of their five year old daughter Rachele. COPING (Caring for Other People in Grief) is a registered, non-profit charitable organization offering help and encouragement to everyone who participates at no cost. www.copingcentre.com for more information.
"This beautiful, funny, heart-warming film is
clearly made by people who love making movies. Better still, it's made by people who
love watching movies."
Thom Ernst – CBC Television, CTV, TV Ontario