Dec '15: Kate Drummond Cast in Wynonna Earp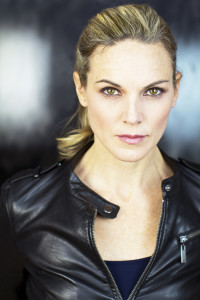 Kate Drummond is currently shooting a recurring role in new SEVEN24 Films series, Wynonna Earp, being shot in Calgary, Canada. The contemporary thriller about a modern day gunslinger and paranormal crime fighting has a cast and crew that is exclusively Canadian and is scheduled to premiere on Monday, March 28, 2016 on CHCH. The series will also air on Syfy in the United States.  The 13- episode one-hour series is based on the IDW Publishing comic created by Beau Smith.
Wynonna Earp is a lively, contemporary thriller that follows Wyatt Earp's great great-granddaughter as she battles demons and other supernatural beings. A modern day gunslinger, Wynonna uses her unique abilities and a dysfunctional posse of allies to bring the paranormal to justice.
"CHCH is pleased to bring a refreshing and entertaining program to Canadian audiences. We're excited to be working with an amazing cast and anticipate an action-packed premiere in March!" says Channel Zero Chairman & CEO, Romen Podzyhun.
Melanie Scrofano (A Sunday Kind of Love, Gangland Undercover) stars as Wynonna Earp. Tim Rozon (Being Human, Instant Star) will play legendary con-artist Doc Holiday, Shamier Anderson (Defiance, Constantine) plays Wynonna's ally Agent Dolls, and Dominique Provost-Chalkley (Avengers: Age of Ultron, Beautiful Devils) has been cast as Wynonna's sister, Waverly. Emily Andras (Lost Girl) developed the series for television and serves as Executive Producer and Showrunner.