Dec '15: Kate Drummond joins Flower Shop Mystery Series on Hallmark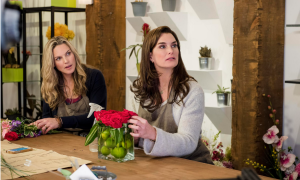 Kate Drummond is thrilled to be working alongside the incredible cast of Brooke Shields, Beau Bridges and Brennan Elliot in Hallmark Movie & Mysteries new detective series, The Flower Shop Mysteries. The movies are based on the best selling collection of novels by New York Times Bestselling author, Kate Collins and are directed by Bradley Walsh (The Listener, Lead With Your Heart).   The first movie of the series, "Mum's the Word", premieres on January 17th, 2016.
Brooke Shields… Abby Knight
Brennan Elliot …Marco Salvore
Beau Bridges…       Jeffrey Knight
Kate Drummond…Nikki Bender
For more info, click here.