Photo Exhibit "ASK" – September 4th Launch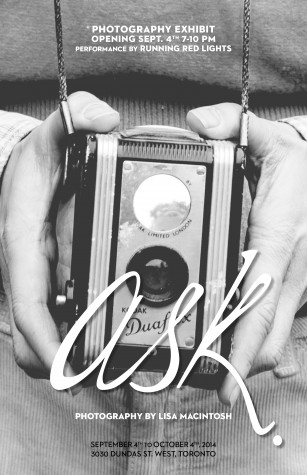 Kate is honoured to be included in a powerful and motivational exhibit where Toronto photographer, Lisa MacIntosh, has captured the hearts and stories of 15 women from all walks of life.
Words from the photographer, Lisa MacIntosh:
"I am fortunate to be part of a close-knit group of professional female photographers who inspire, share and motivate each other to evolve in their work. Every year we choose a word to live by. The first year I chose the word 'Fearless' or at the very least Fear Less. The past two years I have been living life according to the word 'Ask'.
With this concept in mind, I started to believe that photographing people who are "go-getters", "lifter-uppers", superheroes and other talented artists was what I was meant to do. I began a journey of asking.
All of us are interconnected, and each of our personal journeys can intersect with the journeys of others in the most spectacular way. Fifteen inspiring women…fifteen portraits.
An exhibit will be launched Thursday, September 4th at 3030 Dundas Street West – 7pm. 
"The seed of a project often blossoms into a much larger tree of lovely fruit…it's the passion you feed into it".